Lee Valley Hockey Trip
On Sunday 18th June Headington's Sports department took nearly 60 pupils to watch some of the finest international Hockey teams battle against each other on the pitch.
They had the opportunity to watch two FIH (International Hockey Federation) Pro League Hockey matches. This exciting summer league the ten best Hockey countries against each other in both men's and women's leagues.
The girls were lucky to watch the GB Women beat USA 4-2 in an exciting match and the GB men win 3-0 in a tense but exciting finish against Spain.
Mr Alex Williams, Head of Hockey said; "It was a great day out – the weather was kind and we just about avoided the rain! It was amazing having the freedom to explore the various events, challenges, activities and food trucks that were on offer before and in between the matches. These included a penalty flick competition and a small sided arena.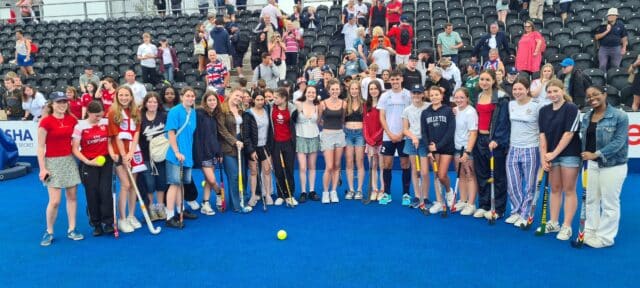 "After both matches we were fortunate enough to get out onto the hallowed turf of Lee Valley, which were pitches built for the 2012 Olympics, and to hit a ball around with some of the players.
"We left feeling inspired and grateful at having the opportunity to watch some world class Hockey, and to get some autographs and photos."