Bus partnership
From September 2023 Headington School's home to school coach service will be run in partnership with Magdalen College School. We operate an extensive network of 12 routes, including a cross-Oxford service for girls from Year 3 upwards. Additionally, there is one Late Bus (C) operating.  Other Late Bus routes are under review. Maps are provided below but for full, up-to-date routes, timetables and fares, and to book, visit the HMBus website. There is also an FAQ section which should provide all the additional information parents may need about the service.
By working together and investing in this new service, Headington and MCS aim to provide an enhanced home to school coach transport network that not only meets the needs of busy working families, but also demonstrates our commitment to sustainability and the environment by reducing the number of car journeys into the city. We hope as many families as possible take advantage of this new service and we look forward to welcoming pupils aboard.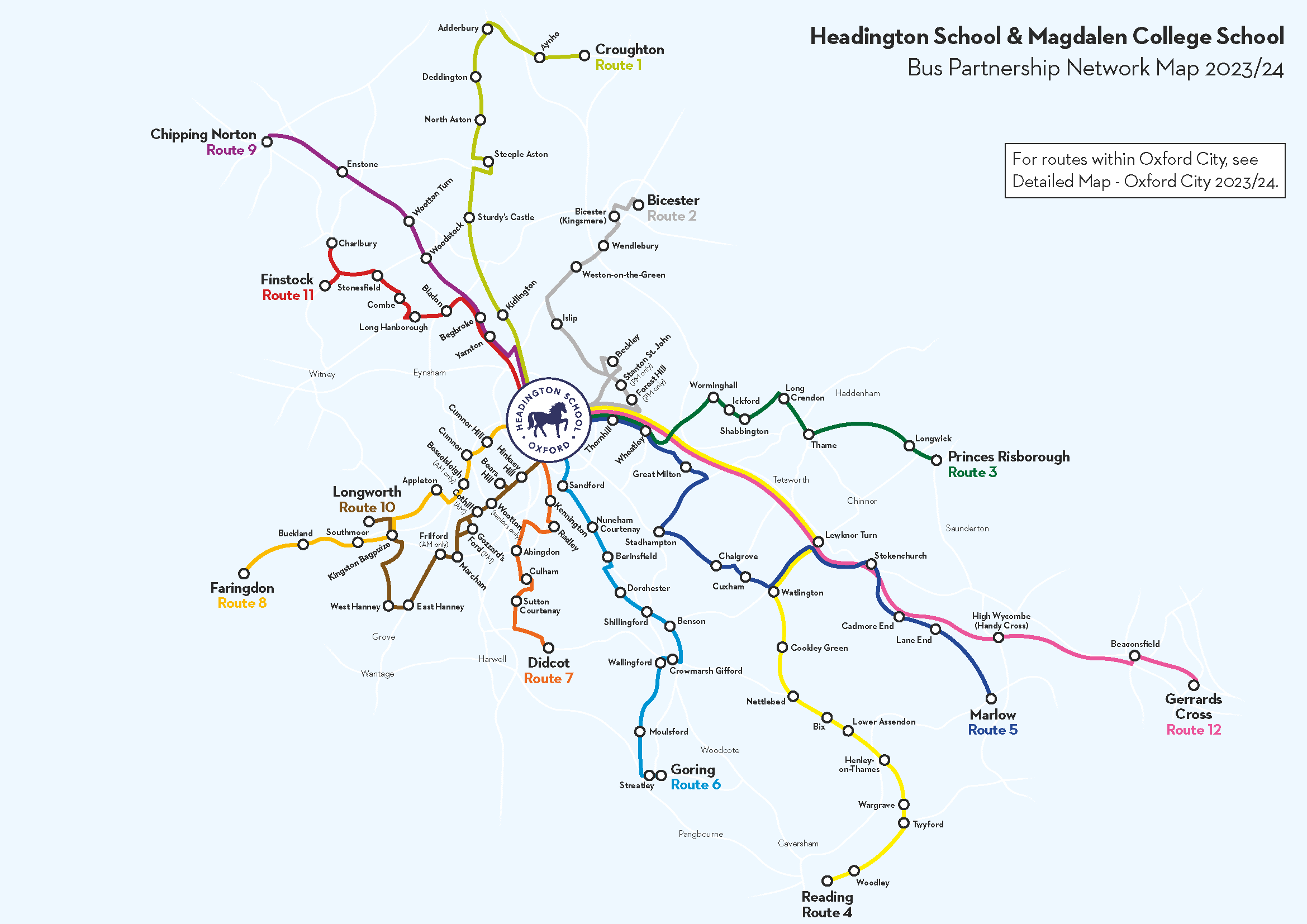 Route map (select for downloadable version)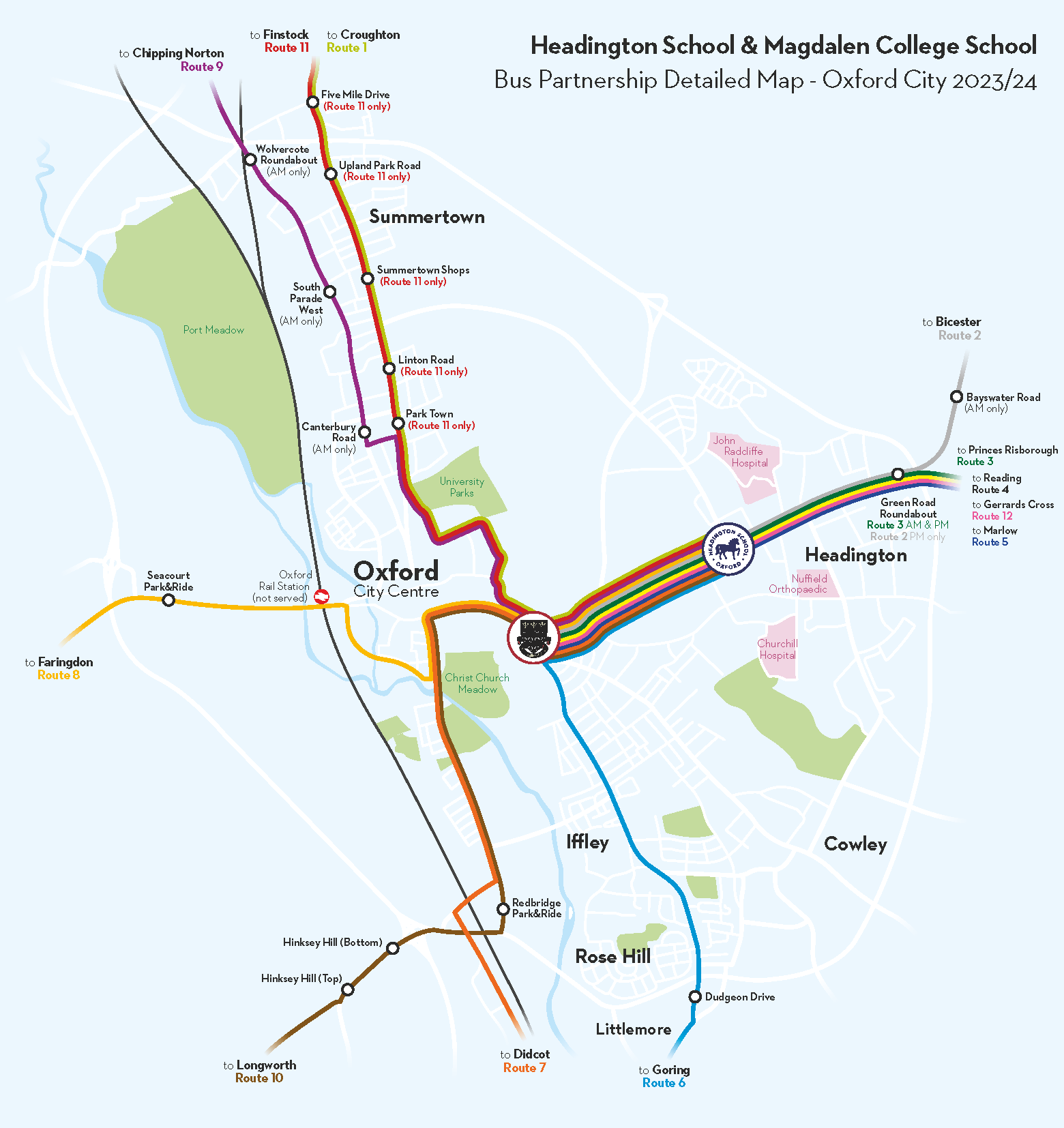 Detailed map of Oxford City Centre stops (select for downloadable version)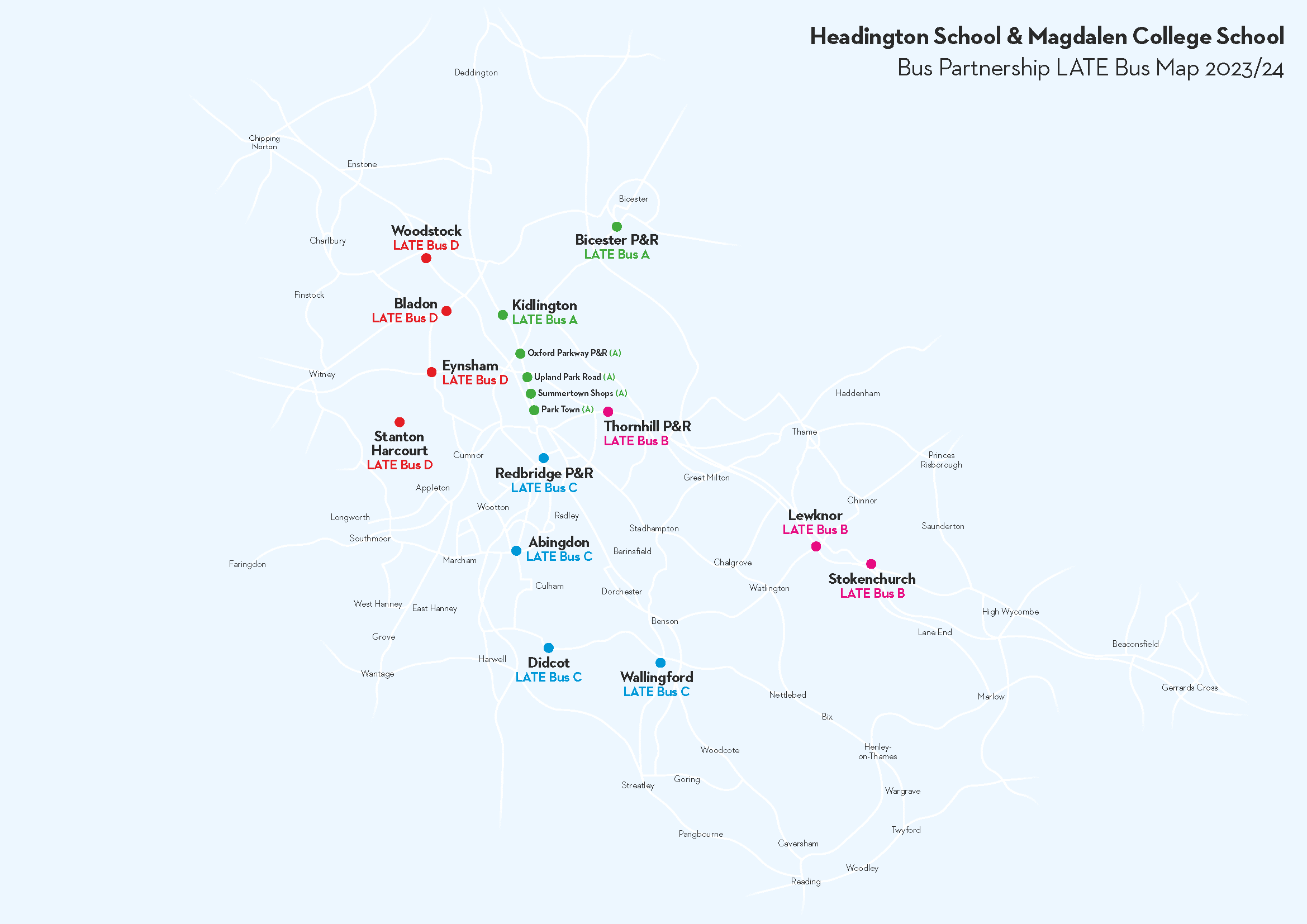 Booking
Bookings can be made for the 2023-2024 academic via the Headington and Magdalen College School Bus Partnership website here. This is for all pupils who will be in Year 3 or above from September. We recommend booking early to secure your place. For the 2023-2024 academic year, route 1 has limited availability and route 4 is full.
Fares
The fares below are for the whole academic year, which can be paid in full when booking, or in two instalments (August and February). The fares are dependent on which zone you are in and are as follows.
| | AM & PM | AM Only or PM Only |
| --- | --- | --- |
| Zone 0 | £700 | £490 |
| Zone 1 | £975 | £685 |
| Zone 2 | £1,650 | £1,155 |
| Zone 3 | £1,800 | £1,260 |
| Zone 4 | £1,950 | £1,365 |
Purchase of the Zonal pass gives Senior School pupils complete flexibility of being able to use any stop for that service within lower zones. For example, a Zone 4 pass enables travel in Zones 0, 1, 2, 3 and 4. Whilst this will also be possible for Prep pupils in some circumstances, this will be subject to discussion and agreement between the School and parents.
It is also possible to book at no extra cost and subject to demand:
on to separate routes for the morning and afternoon, eg Route 3 in the morning , Route 2 in the afternoon
on to two different services where pupils need to travel to different home locations during the week eg Route 4 Monday to Wednesday and Route 6 on Thursday and Friday
Part-week bookings will only be available on the late bus service, for all normal routes parents must purchase a full-time pass.
Sibling Discounts : 15 per cent on the second child's fare, and a 30 per cent discount on any subsequent child travelling to and/or from Headington School or Magdalen College School. Please note that the sibling discount does not apply on the late bus service.
We subsidise the Bus Partnership as part of our commitment to encouraging sustainable transport to school.
Late buses
We are currently operating one late bus for Senior School pupils only, leaving school between 5.30 pm – 5.45 pm Monday to Friday. Booking must be made in advance and can be made via HMBus website
LATE Bus C
Departs Headington School
Redbridge Park & Ride
Abingdon
Didcot
Wallingford
The late bus charge is calculated per half term block (additional to the Core Service fare).  Sibling discounts do not apply to the Late Bus booking.
Changes of Service
The School reserves the right to cease a service in the event of the service being significantly undersubscribed or by factors outside our control. Timetables & routes may be adjusted to reflect demand or due to operational difficulties.