Useful Information
Travel
Whether your journey to school begins a short walk away in leafy Headington or you have further to come, we want to make sure your day starts and ends well.
Travel To School
Headington is set in the heart of Oxford, just a mile from the city centre and benefits from excellent transport links. We encourage girls and staff to arrive, where possible, using green and sustainable transport methods such as walking, cycling or taking one of the many private or public bus routes which serve the School. We are also aware that many girls who wish to take advantage of all that Headington has to offer come from further afield, so do everything we can to support their journeys to school.
From September 2023, girls travelling to school can take advantage of:
A range of 12

private routes, including a shared bus partnership with Magdalen College School (MCS), serving the local surrounding towns and villages

Late coaches on four routes to drop off at 'hubs' outside Oxford including some Park and Ride sites

Two Park & Ride buses

Multiple local bus routes

Two regular bus routes to London

A direct link from Oxford Railway Station and Oxford Parkway Railway Station via the Park & Ride bus

Secure bicycle parking and bicycle paths on the roads surrounding the School

Safe, light-controlled pedestrian crossing points in all directions

A safe one-way drop-off zone for drivers
A cycling map of Oxford can be found here.
For current pupils OSBP will continue to operate for the remainder of this academic year.  Further Information can be found on the OSBP website.
Headington and Magdalen College School Joint Bus Partnership
We're delighted to be able to provide information about our new joint coach service with Magdalen College School which will run from September 2023. We will be running 12 routes and are now able to publish these along with timetables and fares. We are also pleased to announce that we will be able to provide four late coaches for those who take advantage of after-school activities and clubs.
All the information can be found here. Booking will be open in May. If you have any questions in the meantime, please contact transport@headington.org 
We are keen to build on the success of the OSBP partnership in order to promote sustainable and safe home to school travel. As such, both schools are committed to investing in this new, joint bus partnership to support our families and protect the environment by minimising the need to travel by car. 
Drop Off And Pick-Up Zone
Whilst there is no parking at either the Prep or Senior School, a safe drop-off/pick-up zone has been created by Hillstow House for pupils coming to school by car. This is strictly a no-parking, no-waiting zone and a one-way system is in operation for all traffic.
Access is via the Stable Yard Gate and exit is via the automatic gates at Davenport. A limited temporary waiting area (no more than ten minutes) is available adjacent to Hillstow House – so please do not stop along the access road as this blocks other traffic.
Girls should be encouraged to keep to the safe pedestrian pathways to avoid the risk of an accident in the drop-off zone. A crossing point has been created to enable pupils to get to school via the central pathway and a shelter has been provided in the event of inclement weather.
In the event of an emergency, pupils may contact House Staff in the Hillstow Office. Parents can also telephone the Hillstow Office on +44 (0) 1865 759173 if they are unable to contact their daughters.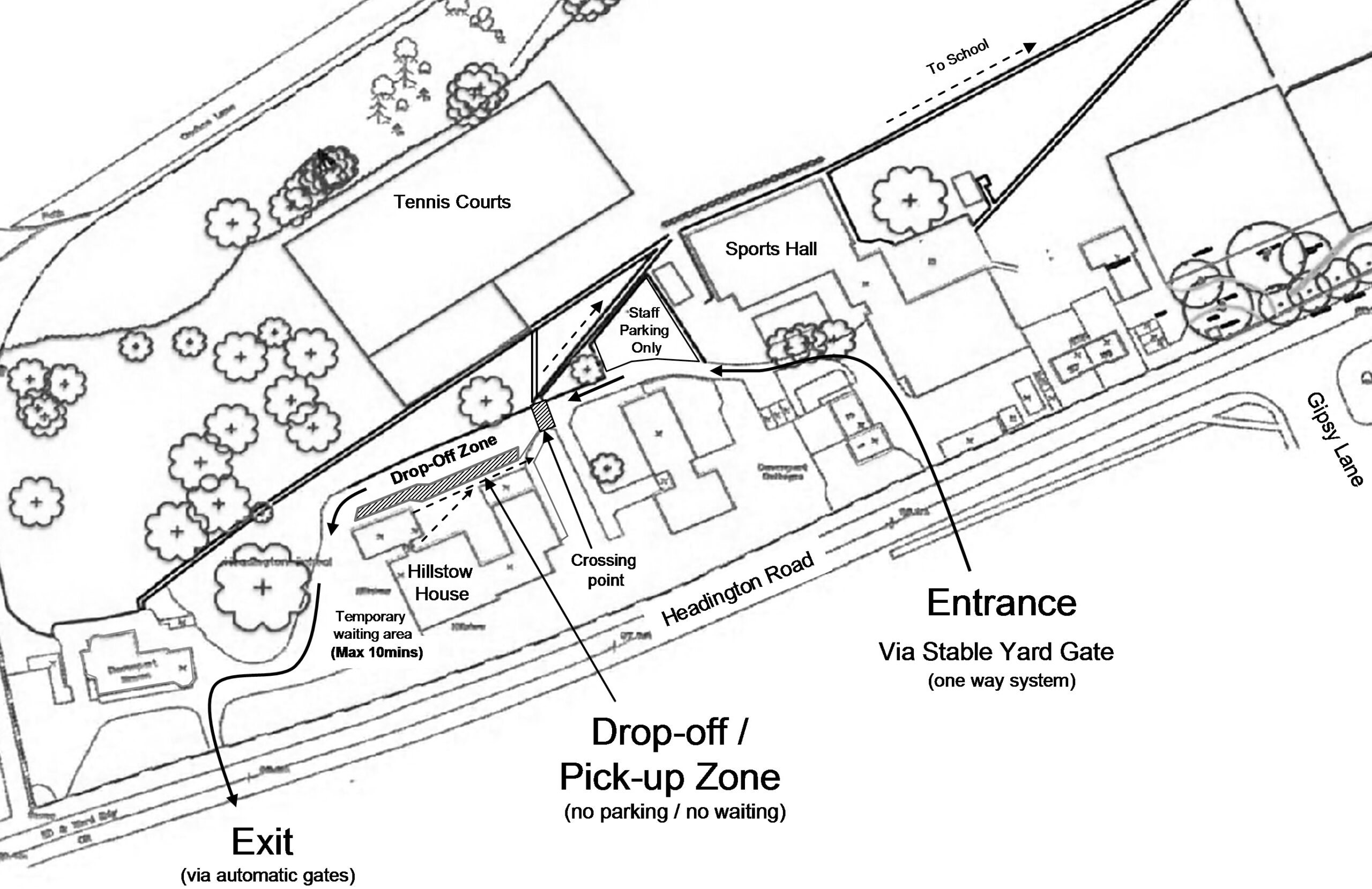 Food
We take food seriously at Headington and we know if our girls are well-fed and nourished, they will perform better inside and outside the classroom.

We make sure there is a wide range of healthy, nutritious and, most importantly, delicious food on offer throughout the day and evening.

Our Kitchen Team
We directly employ all our catering staff and they follow the same high standards as the rest of our team. Catering and Hospitality Manager Geraint Owen leads our team of chefs and catering assistants who are excited about providing excellent food for a diverse range of different needs in our school setting.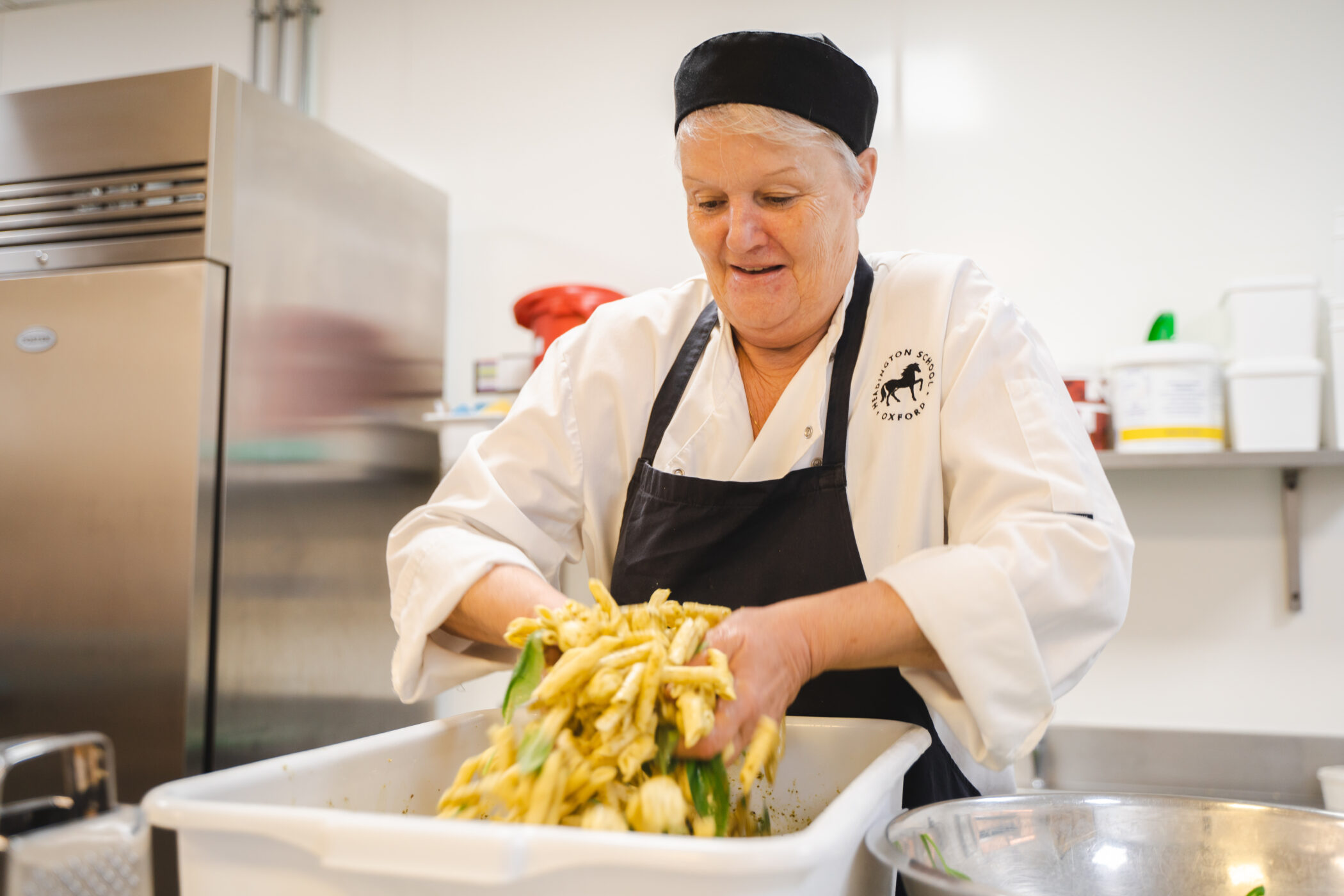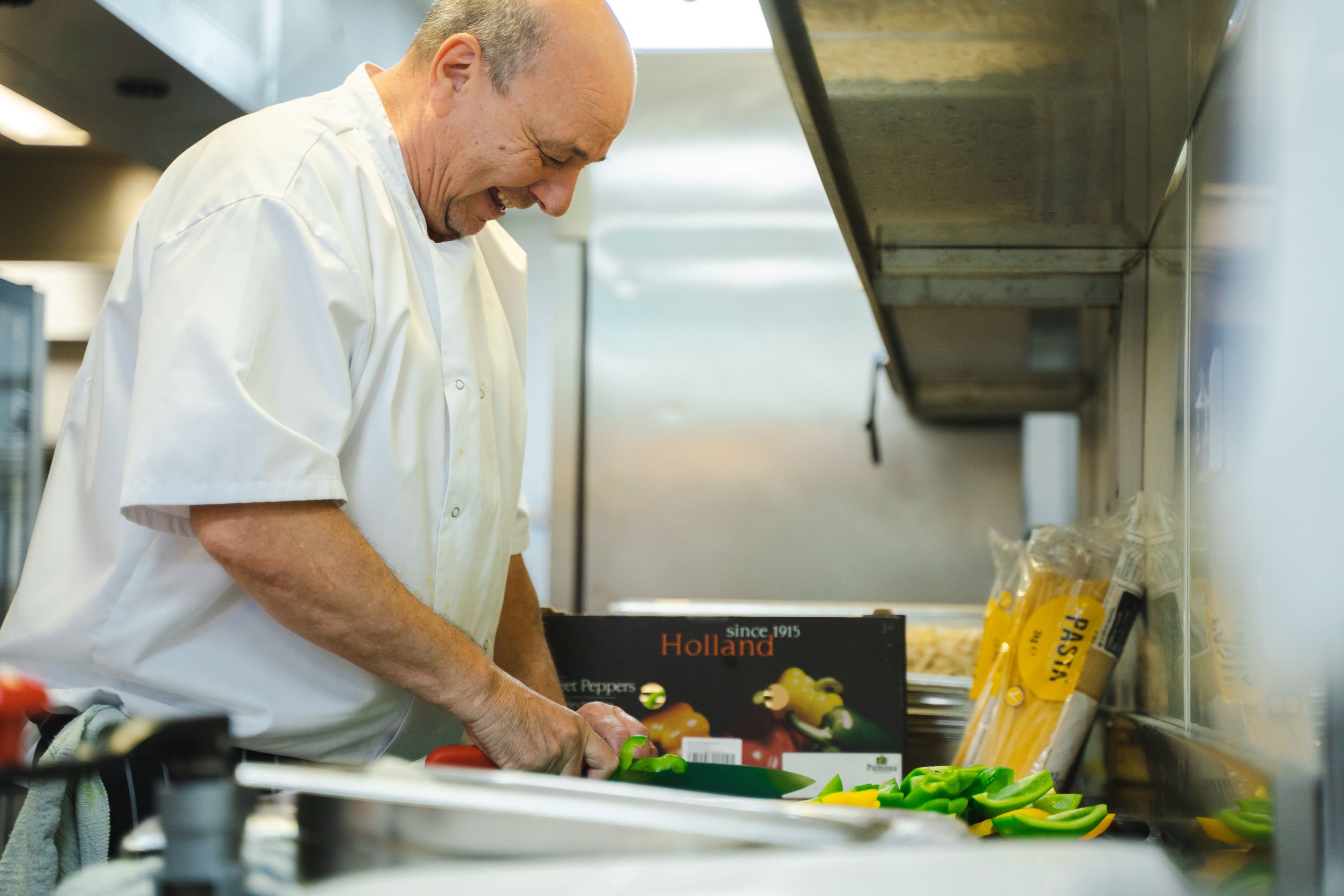 Choice
We offer a wide selection of healthy meals for all tastes and diets. As well as a choice of hot dishes, vegetarian and vegan main meals, soup, jacket potatoes, pasta, sandwiches and salads are always available at lunchtime. Hot and cold desserts are also available each day, including yoghurts and fruit. Our menus change every day and our food committee meets regularly to discuss and review the choices on offer.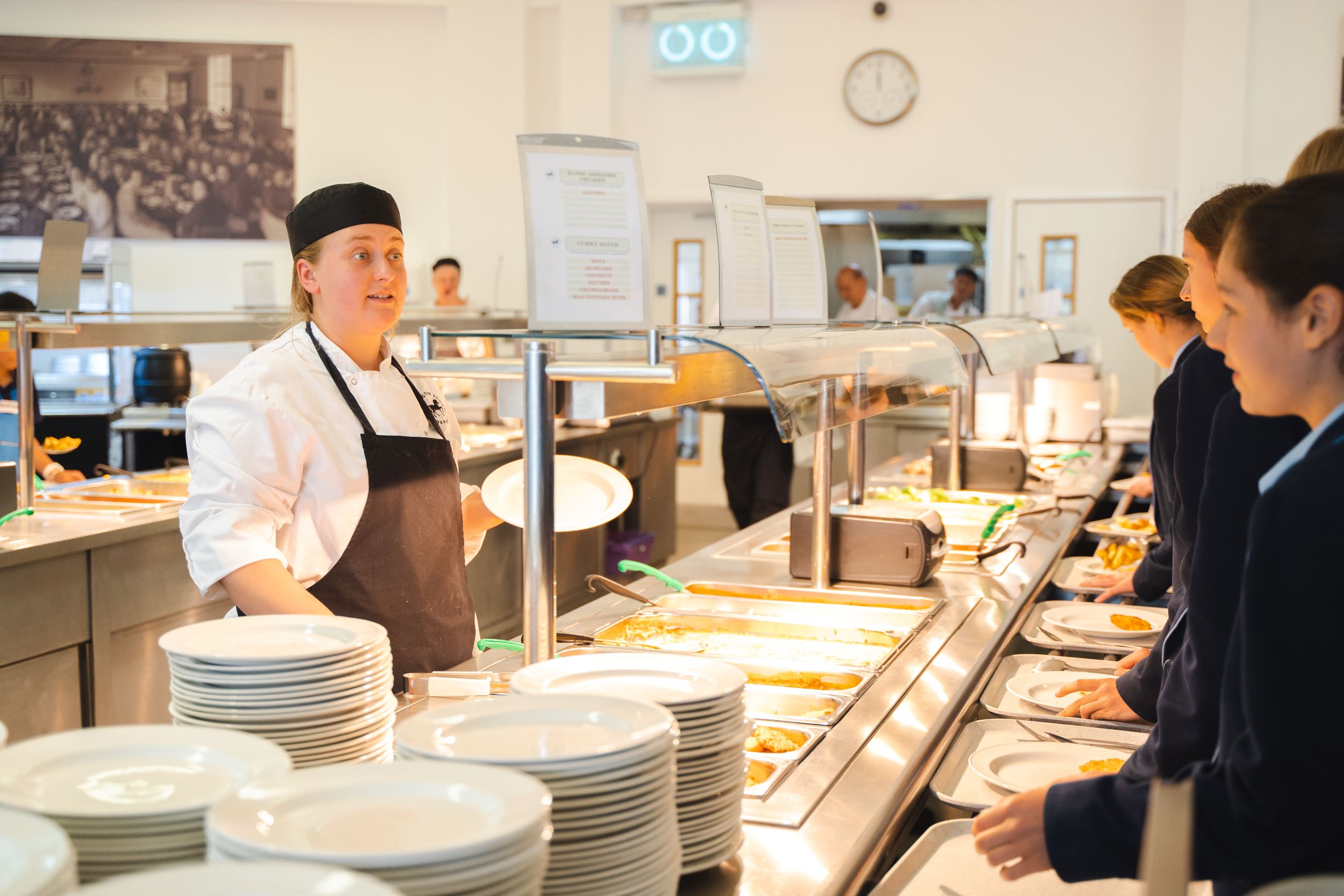 Healthy
For us food is all about balance. We want our girls to enjoy their food and to treat it both as something to provide them with fuel to support them through their action-packed school day and to enjoy with their friends. We take advice from the experts and make sure we offer plenty of delicious, healthy options. Fruit is always available at break time, lunch time and tea time, while at tea time girls can also refuel on crudités and toast, or opt for cake or hot chocolate.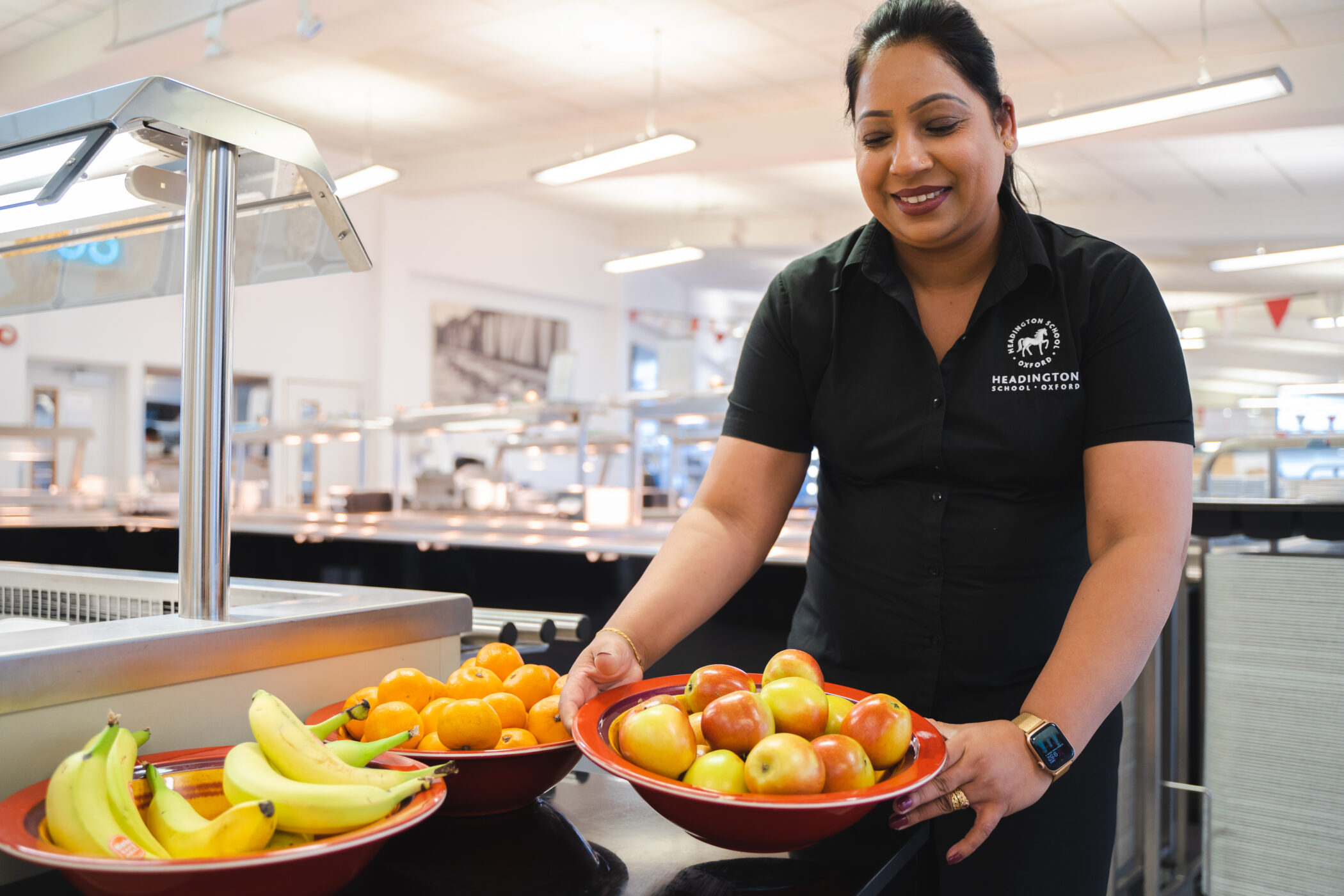 Special Diets
We cater for a wide range of diets and allergies. All our dishes are clearly labelled with allergen information and our staff can provide more specific advice if girls are unsure. We are also very accustomed to catering for sports nutrition, making sure, for example, that our elite rowers have everything they need to make sure they are ready for training and racing.
Boarding Food
Breakfast is an important part of the day for our boarders. Girls can choose from a continental breakfast or fill their plates with a variety of hot breakfast items. They can also help themselves to cereals, fresh fruit salad, yoghurts, juice and hot drinks.
For supper, boarders will again enjoy a variety of options, with different diets and preferences catered for. There are also termly suppers with an international theme and special house suppers where girls select the theme and menu.
Uniform
Wearing Headington uniform reminds our girls they are part of our School's rich history.
Our girls are proud to be part of Headington's fantastic community. Whether they are dressed smartly for the classroom in our navy blazers and tartan skirts or are representing Headington on the national stage in their Rowing all-in-ones, their uniform reminds them – and others – that they belong to something bigger.

We want all our girls to look smart, tidy and ready to learn and ask parents to support us by ensuring their daughters arrive at school dressed appropriately.
Sixth Form Dress Code
As our girls get older and reach the Sixth Form, we encourage them to express their individuality and discover who they are, which often means experimenting with their appearance. To that end, our Sixth Formers do not wear uniform – but we do ask them to think carefully about what they wear and be mindful that how they dress will affect how others respond to them. All Sixth Formers are expected to have a black, grey or navy suit for formal occasions and to wear smart, practical clothing in a good state of repair at all other times.
Our Uniform Suppliers
Our uniform can be ordered from our supplier, Stevensons, in the following ways:
order online from the

Stevensons website

in person at their shop at 245 Banbury Road, Oxford, OX2 7HN

telephone 01865 554559
Second-hand uniform sales take place regularly at the Prep School and in the Summer Term at the Senior School. Parents also use oldschooluniform.co.uk to buy and sell items as well as Classlist's marketplace.