Steering the ship
A reflection on guiding a school during a period of national significance
Coming together as a whole school – with more than 1,000 pupils and staff to corral – is not without its logistical challenges. Only one room (the Sports Hall) is large enough to house us all. The process of getting every single girl in, sitting on the floor, takes a good 15 minutes or so – and then we have to perform it in reverse. The sheer time it takes to get everyone in place, before a single word has been said, means that such whole school events will always cut into lessons. The restrictions on gathering in groups since Covid meant that we went for about two years without this happening once. That's not to say it isn't important. We try and do it once every half term for significant events, for example Lent or Harvest Festival. This year, on the second day of term, we found ourselves at very short notice pulling the timetable to enable the whole school to come together to commemorate the life of Her Majesty Queen Elizabeth II.
The death of a 96 year old woman of natural causes would not normally be described as either unexpected or tragic. Her Majesty survived her husband by 17 months and lived to see her Platinum Jubilee celebrated across the United Kingdom and beyond. Her incredibly long life and reign set an example of duty and service to us all and there is as much to celebrate as there is to mourn. It is no secret that news outlets had been prepared for this eventuality with carefully planned tributes for a significant amount of time. We all knew that, barring personal misadventure, we would most likely live to see a new monarch on the throne. And yet still the news came as a shock.
It has been a privilege to lead the School at a time like this. When the news broke, I felt personally I needed to do something but of course, what that means in my position is to think about what we as a school could, and should, do. Giving the School the opportunity both to come together and celebrate such a remarkable life and providing the girls with a book of condolences to record their personal reflections seemed a good start. 
Filing into the Sports Hall the day after the news broke was a real pindrop moment. In such circumstances it is natural for minds to wander and for girls to fidget and wriggle a little as they wait to be joined by their peers. On this occasion, however, the audience in the Hall was silent, respectful, engaged. I know for some of our girls it will have triggered difficult emotions and there were certainly some tears. We are also a multicultural community, with girls from all over the world who may have very different (or in some cases, indifferent) feelings towards Her Majesty and the monarchy. On this occasion, though, I saw nothing but respect for the sombreness of the occasion.
Perhaps the strangest part of the whole event was when we all rose together to sing, for the first time, 'God Save the King'. While it felt important for us to do this – to remind the girls that while Her Majesty Queen Elizabeth II was no longer with us, succession is immediate and we now had a King – when it came to the moment of singing it felt so terribly strange after a lifetime of singing 'God Save the Queen'. I am sure many of us will continue to slip up and use the wrong word until we become used to talking about King Charles III.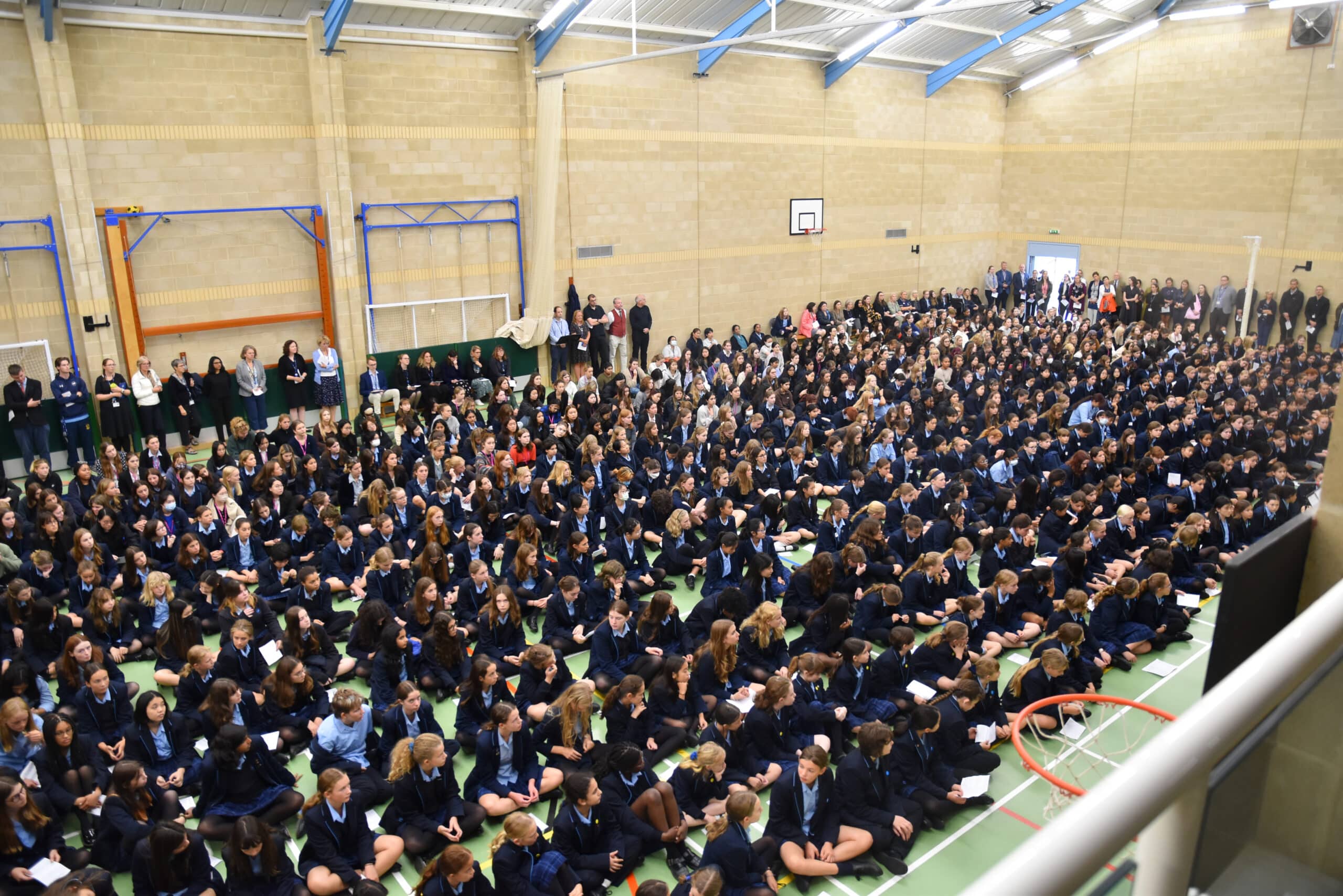 Aside from the assembly, we had to make a lot of decisions quite quickly without a great deal of information. We needed to decide how we should mark the period of national mourning. What could still go ahead? What should be cancelled? Would some things need to change to ensure what we were doing in school was appropriate? We had to strike the balance between respecting the mourning period while also reflecting the fact we had a school of 800 girls, 200 of whom were new girls, who needed to make a purposeful and fun start to their academic year. The word has been somewhat overused in the last couple of years, but we were in a completely unprecedented situation. I spent a lot of time speaking with fellow headteachers and discussing how we each planned to react within our own schools. In the end, school life continued much as normal. The only events we postponed were a couple of virtual open events due to take place the weekend before the funeral. Sports fixtures continued, preceded by a minute's silence, while our more celebratory bonding activities had already been scheduled for after the funeral. Throughout this period, there was a constant reminder of the period of national mourning in the background, with a book of condolences accompanied by a photograph of Her Majesty displayed in a prominent position at the front of school. While there was absolutely no requirement for any girl or member of staff to sign the book, many chose to write movingly and respectfully of their connection to and feelings about Her Majesty and her reign. School closed on the day of the Queen's funeral, although provision was put in place for boarders who were unable to return home. They were able to watch the funeral in house, if they wished to do so. It was a day of remarkable stillness. In Headington, close as we are to two major hospitals and universities, it feels like there is constant bustle and noise. On Monday 19th September, however, the shops remained shut, barely a car passed by and the sound of pedestrians talking as they walked along a normally busy thoroughfare was rare enough to be noteworthy. It was a good deal quieter than Christmas Day, reminiscent of the earliest days of the first Covid lockdown when the world seemed to stop. 
The very next day the School was full again, the pavements and roads were busy and chatter and laughter filled the halls once more. We left our book of condolences out for a little longer to allow those who had not yet contributed to do so if they chose. It was the end of a unique period in the history of the School and one I shall not forget.