Change and Evolution
Headmistress Caroline Jordan reflects on change and evolution following the announcement that Headington School and Rye St Antony are to merge to form Headington Rye Oxford
For many years, our corner of Oxford has been home to two schools, both catering primarily for girls' education but carving out our own niches. We've co-existed happily, with Headington School set on a larger site, offering a wider range of activities and academic choice, while Rye St Antony's smaller class sizes offered a more intimate pastoral experience. Headington, which celebrated its 100th birthday in 2015, is separated from Rye, established in 1930, by little more than a pedestrianised lane. We have been neighbours in a very real sense, benefitting from a beautiful location just a mile from Oxford city centre, strong links with the city's two universities and a wealth of opportunities for enrichment.
That relationship is set to change and I couldn't be more excited. Over the course of the next two years, the two schools will join together to create a new senior and prep school. We are curious, confident, ambitious schools which share very similar educational and Christian values. Our mission is to take the best of both schools to create an exciting new school for both current and future generations of children.
Headington Rye Oxford Prep School will be for girls and boys aged 3 to 11 and will be based on the current Rye site, while Headington Rye Oxford Senior School will remain a single sex school for girls aged 11 to 18 based on the Headington Senior School site. We'll continue to offer boarding for girls from age 11 and we look forward to being able to provide an even more flexible offering in future across the wealth of facilities across the two sites.
Change can be a daunting prospect but all successful institutions – schools not the least – must grow and evolve to ensure they are meeting the needs of their pupil and parent body. While staff and students at Headington, for example, work hard to embody the principles our founders laid out over 100 years ago, the reality is that the School today is almost unrecognisable from the tiny establishment set up in a different building in Headington in 1915. Rye has similarly developed and enhanced its offering over the years to reflect Oxford's changing demographics. 
This is an incredibly exciting time to be a pupil at Headington Rye Oxford, both for those who are already part of our community and those who are thinking about joining us. Taking the shared experience and expertise of the staff across the two sites, Headington Rye pupils will receive a superb education, enhanced by even broader teaching, pastoral and co-curricular expertise, along with excellent facilities across 35 acres right in the heart of Oxford. There is so much scope to do more, to look at the wonderful things both schools offer and to add to already wide and varied subject and activity options. 
I will lead Headington Rye School as Headmistress, ably supported by the expert teachers from both schools. We will continue to offer outstanding teaching proven to allow pupils to thrive, reaching beyond their potential. The two schools will come together in September 2024 when staff and pupils will transfer to their respective sites. 
New families will join an inspirational, forward-looking school with unrivalled facilities, a wealth of teaching expertise and exceptional pastoral care. I'm really excited about being able to add more practical options, such as Leith's Food and Wine Certificate, to our offering and to learning from my new colleagues about how they get the best out of their pupils. While I've been a headmistress for many years now, there is always something new to learn. I find many of the most powerful lessons that I receive today are from the pupils in my charge. Each year I am so excited to meet a new cohort and to see how they will challenge and inspire me as they find their feet and develop into young adults. This next year will be doubly exciting as the Rye cohort joins us, bringing their unique experience and perspectives. I cannot wait to see what they will bring to our new school.
There are of course many logistical things to be managed while we prepare for this change, which is why we have planned for a gradual merger. This will ensure that pupils get the best possible experience both during and after the transition. Our commitment to academic and pastoral excellence remains unwavering and we will, as always, place the happiness and success of our pupils at the heart of everything we do. Headington Rye Oxford will provide pupils with the best possible preparation for their future, whatever it may hold.
We are extremely lucky to have really skilled, experienced staff at both schools. We know we will be able to provide a truly fantastic experience for our current and future school community. Our new combined Prep team, from both Headington and Rye, has a wealth of experience in working with both boys and girls and we are delighted to be able to respond to the growing demand for a larger co-educational prep school in this part of Oxford.
We want everyone to feel part of this exciting journey as Headington Rye Oxford starts to take shape.
Watch Mrs Jordan share the exciting news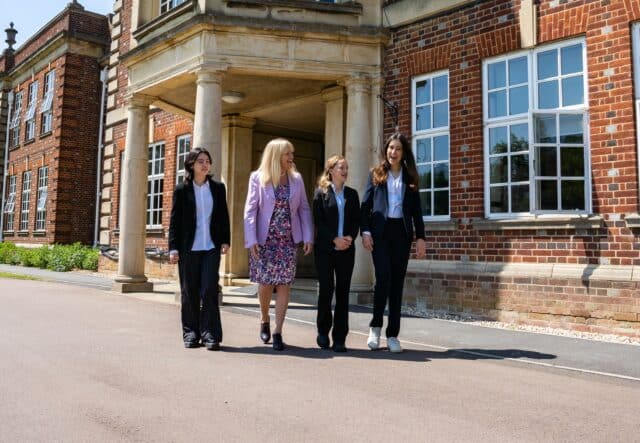 Hear from Mrs Jane Crouch, Head of Headington Prep, to learn more about the new prep school