Learning to cook
The way we teach pupils to cook and learn about nutrition has come a long way since the days when girls went off to do 'Domestic Science' while boys learned woodwork. Since then, we've had Home Economics and Food Technology before we landed at the current subject title, Food and Nutrition. It does, however, remain a subject more popular with girls (take up is around 60/40 at GCSE level) and in some schools it is simply not on offer beyond a few cursory cooking classes to the younger pupils. At Headington, however, it is an integral part of our curriculum and an area in which we are actively investing.
Why you need to be able to cook
At a very basic level, you need to be able to cook because it is a life skill. Learning about nutrition and healthy eating and then putting this knowledge into practice by being able to cook is vital for life. Relying on convenience foods is expensive and unhealthy since they tend to be higher in fat, sugar and salt, so they are not a good choice on a regular basis. 
At Headington, every pupil has the opportunity to learn to cook fresh ingredients from scratch in Food and Nutrition lessons or in after school clubs. Cooking is one of the attributes that will make pupils 'Future Ready'. With the cost of living crisis having an impact on everyone's shopping basket, it is really important that our pupils understand the importance of investing in themselves by learning how to cook healthy, affordable meals. 
So, what is 'Future Ready'?
As far as Food and Nutrition is concerned, 'Future Ready' means that a person can confidently select ingredients that are within their budget and use them to cook wholesome meals and treats in a timely manner. Our pupils enjoy cooking, so this is a joy rather than a burden for them. Due to the practical nature of the subject, classes are capped at 12 pupils. All Year 7 and 8 pupils spend half a year studying Food and Nutrition while in Year 9 it becomes an option in the creative subjects group.  IGCSE is then offered in Year 10 and 11. In the Sixth Form, Food and Nutrition is part of the Electives programme. Students can sign up for modules on Cooking for University or How to Eat Smart to save the planet.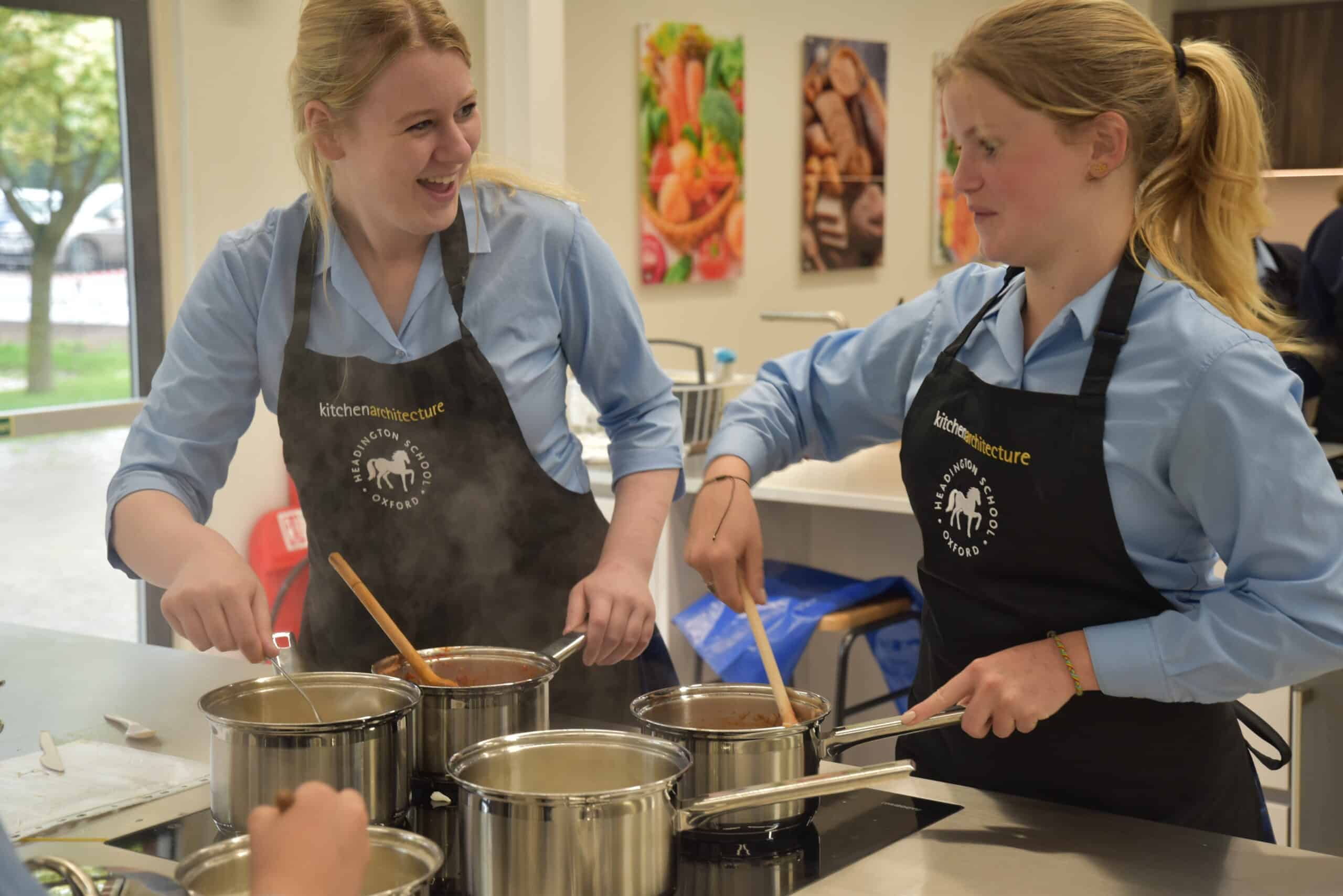 How does this fit in with #BeWhoYouWantToBe?
Studying Food and Nutrition is important for every pupil. It doesn't matter whether you want to be a film producer, a vet or a designer, everyone has to be able to eat if they are going to thrive. Indeed, much criticism has been given of GPs lacking training in nutrition and medical degrees have been tweaked to put more time aside for training in this field. GPs are in the perfect position to be able to advise their patients on how to avoid diseases related to an inadequate diet. Consequently, pupils entering this field of work would have a head start on their peers at university, as well as highly developed fine motor skills if they plan to become a surgeon!
What do we cook?
The Food and Nutrition department feel that pupils should cook things that:
are appropriate to their culture and values

meet nutritional guidelines

help them to feed themselves within a budget

are useful to them now and in later life
Pupils therefore learn to make a range of savoury and sweet recipes that they will enjoy eating. Rarely does a piece of practical work make it home unscathed; if not eaten immediately, it will be shared on the bus! Good knife skills are essential and pupils gain confidence using the hob, grill and oven. Cooking methods such as baking, grilling, boiling, simmering, chargrilling, dry frying and shallow frying are used. Sauces are made, biscuits are piped, cakes are decorated, pastry is made and food is plated and garnished before photographs are taken. IGCSE pupils are expected to really challenge themselves, they cook a two-course meal with two accompaniments and two other items, for example a cake and yeast dish in 2 ½ hours, quite a feat! A typical exam might see pupils cooking a spinach, sun-dried tomato and boursin roulade for a starter, followed by chicken in a wild mushroom sauce, wild rice, steamed asparagus and glazed carrots for a main course and then a decorated coffee cake and batch of pizza whirls. Sixth formers will recap on how to make a ragu which can be made into numerous dishes, they will make a curry, stir fry and a recipe using leftover store cupboard/fridge ingredients. Hopefully they will gain confidence for when they leave home and have to cook for themselves. Food allergies are something we get asked about all the time by visiting parents. Any special diet can be accommodated in class and recipes are adjusted to meet the needs of Halal pupils, vegans and vegetarians.
What else will pupils learn?
Lessons at school provide opportunities to develop the qualities we value at Headington. Pupils work collaboratively in all practical lessons at the oven/hob/dishwasher and when clearing up. They are encouraged to be creative when presenting their practical work, particularly at IGCSE level. Practical skills are all planned and developed sequentially so that pupils develop confidence when cooking. Curiosity and courage are developed when new ingredients are introduced. Pupils in Year 9 also get the opportunity to develop confidence and courage while delivering a presentation to the rest of the class. Pupils are expected to show compassion especially if someone's work does not go to plan. Not all results are successful, so it is important that pupils reflect on the positive. 
Pupils often find their own passion for food and cooking. Through sharing these cooking experiences and working together to achieve a goal, it allows for a nurturing environment in the class and a positive attitude toward healthy eating and food. This lifelong learning gives children a greater confidence in themselves, grows their ability to problem solve, work collaboratively and value the process it takes to create something that everyone can enjoy. In addition to all this, pupils develop Maths skills whilst measuring and using the clock, time management in busy lessons, especially if they are making more than one recipe in 50 minutes, and organisation skills. The ability to improvise and problem solve is a key skill in the kitchen.
What facilities does Headington have for teaching Food and Nutrition?
Headington opened a fantastic new suite of rooms in 2022. The rooms were recently officially opened by chef, restaurateur and TV presenter Prue Leith. Prue said: "It's just so lovely to see the girls really enjoying cooking proper, healthy food. They obviously love it, which is the trick – if you can get people to love cooking good food, they will end up eating healthy food and it's lovely to have such nice facilities too." During her visit, Prue was able to see Year 8 pupils cooking salmon in a soy and ginger sauce with noodles and chicken, chorizo and chickpeas with rice. U6 pupils made a vegan sweet potato curry and garlic flatbreads. 
The two rooms benefit from Gaggenau appliances, each pair of pupils has a dishwasher too. Pupils are still taught to wash up though! There is a mezzanine floor with dining area for 12 guests and a demonstration kitchen which is used for events and socials with other schools. All ingredients are provided by school.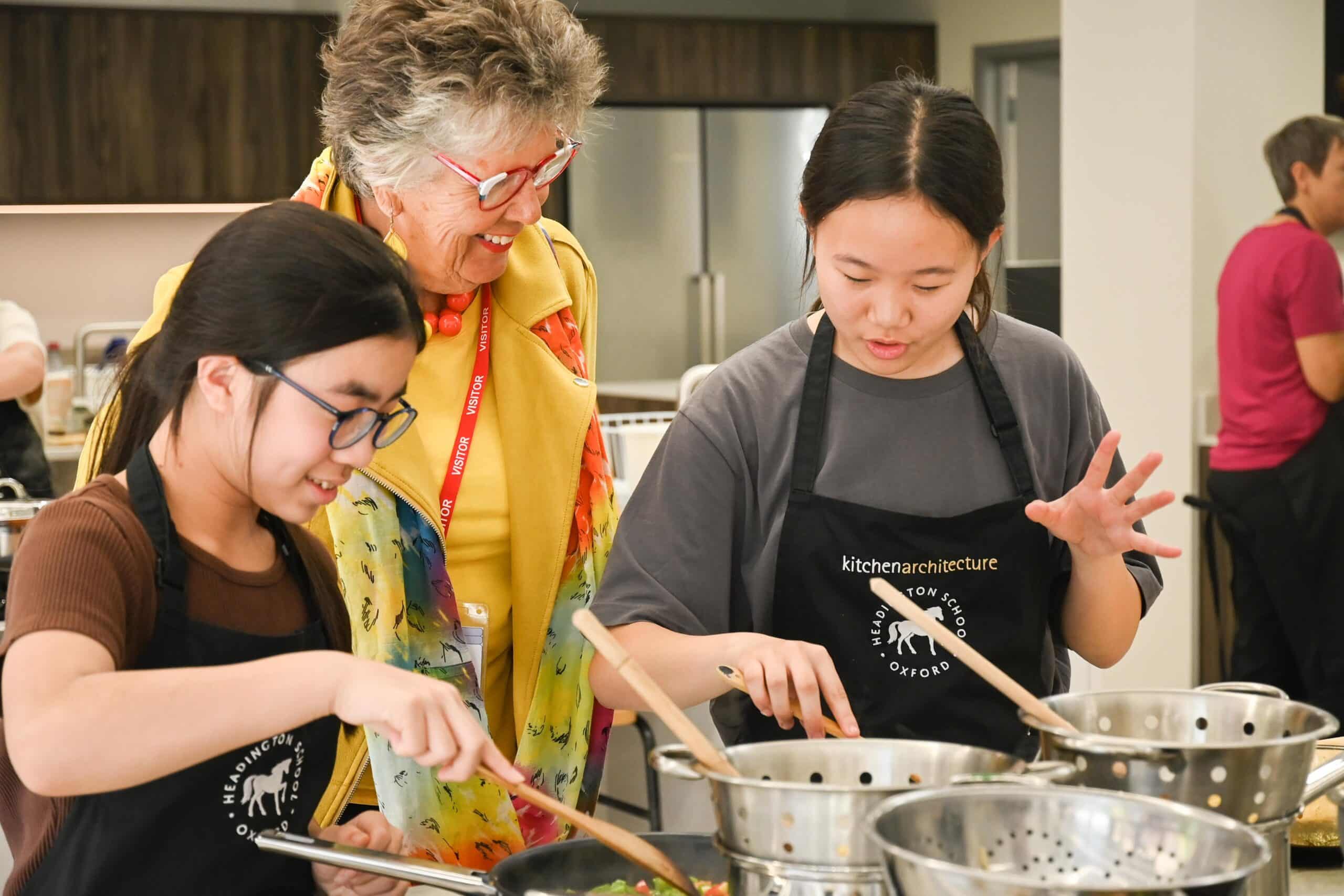 The bigger food picture
The Government's Climate Change Committee has said we must reduce the amount of meat we eat by 20–50 per cent in order for the UK to reach net zero by 2050. At Headington, we cook a large number of vegetarian recipes particularly in Years 7-9, staples such as rainbow rice, crunchy vegetable pasta, vegetable stir fry, sweet potato and chick pea curry and spicy Quorn pasta are routinely made in class. We also consider food miles, food provenance, food security, traceability in the food chain and sustainability. We try to minimise food waste and compost waste and recycle food packaging. 
It is a joy seeing our pupils developing confidence in the kitchen, learning to love cooking and leaving Headington with both an understanding of what they need to fuel their bodies and the skills to do so once they set off to pastures new.