Keeping girls in Sport
As I sit down to write this, it is the eve of International Women's day 2023. I feel blessed and privileged to be surrounded by so many inspiring and amazing girls and women in both my professional and personal life. Many of these, first amongst them my mum, have always championed sport, competition and above all else a healthy balance physically and mentally.
The theme for #IWD2023 is "Embrace Equity". The IWD website tells us that equity can be defined as recognising that we all come from different circumstances and therefore need different and specific resources or support to achieve equal outcomes. I found the below images useful in being able to articulate the difference between equity and equality. The two are sometimes used interchangeably but this is often incorrect. For girls and women to continue participating in and enjoying sport, we need to consider what equity means for them.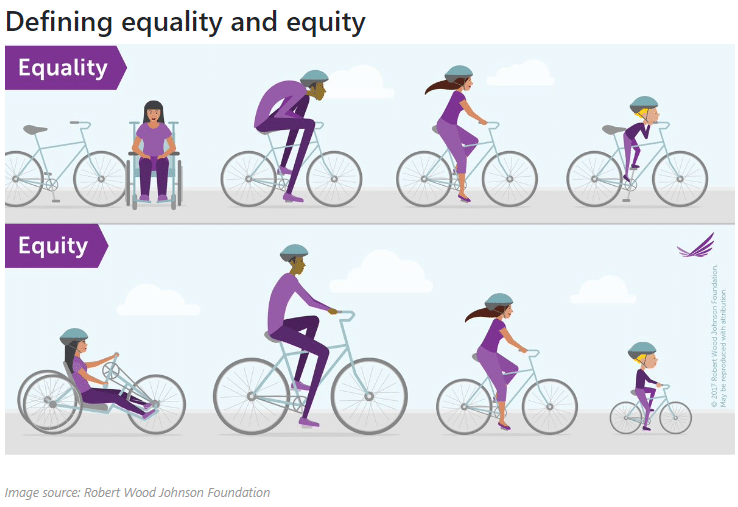 https://www.internationalwomensday.com/EquityEquality
It is much documented that girls' participation in exercise and sport drops dramatically when they hit 16. This simply isn't the same for boys, where the decline is noticeable but significantly less marked. It is also striking to recognise that teenage girls generally have a much worse relationship with physical activity and sport than boys. There are some scary statistics published here by Women in Sport. Teenage years are incredibly formative and many girls are missing out on these positive experiences, as well as losing out on healthy habits in their younger years and beyond. As a man who is not in my teens (!) I realise the limitations of my personal experience so I spoke to my A Level PE group for their thoughts on this topic and have included their reflections throughout this piece.
Research and anecdotal evidence tell us this happens for a variety of reasons. A big one is girls simply losing interest in sport. As well as a reduced interest in sport and exercise we often see a significant change in interests. While this is normal, to a degree, it remains important to maintain participation numbers in physical activity to allow girls to continue to reap the multifaceted benefits of involvement. As girls grow older, exercise and sport may become less appealing in exchange for seeing friends, going to parties and other recreational activities. As girls get older, many are more keen to do exercise classes rather than competitive sport. They want exercise which they enjoy where there is less pressure of comparison. This could take the shape of Zumba, Yoga, Pilates, Boxercise, Aerobics or popular 45-60 minute exercise classes such as 'Body Burn' or 'Legs, Bums and Tums'. We are fortunate at Headington to have an amazing plethora of activities and are able to offer our senior girls in particular a varied and exciting curriculum. We have found that, in Sixth Form, there are fewer girls interested in playing competitive sports but that many still want to enjoy some exercise – be that in the gym, playing some social badminton, or doing a spinning class. We recognise we are hugely privileged to be able to accommodate their interests and there are few schools with the calibre of facilities we are lucky enough to have so this may not be possible to the same degree everywhere. However, having a varied programme for older girls does seem like an important step forward to enable physical activity participation numbers to remain high.
Another obvious factor is academic pressure. Girls are under huge pressures to do well – not just academically but in everything they do. This pressure to succeed or expectation to be perfect can be so severe that they quit things they enjoy or have previously been very passionate about. Why is it that boys do not appear to experience this same pressure or, if they do, that they more often continue playing sport despite this? This is not a question I have the answer to and, I suspect, if anyone is able to work it out, we'll be able to create a huge positive change in regards to girls' physical activity levels. Naturally, increased academic pressure as one climbs up the education ladder (GCSEs, A Levels and into university) results in a reduction in free time. This free time is often then dedicated to other pursuits, such as academics or socialising, rather than sport. My A Level pupils told me academic pressure was a big reason for doing less sport;  having a strong PE, Games, Sport and fixtures programme ingrained in our daily school life helps us ensure we are allowing pupils to get their fill of sport and exercise. At Headington you can't 'opt out' of Games once you reach a certain age, we consider it to be an essential part of balanced school life, including at Sixth Form. This certainly isn't the case everywhere. 
Time pressure combined with a reduced interest can be deadly for participation numbers in girls' sport and exercise. Many girls' recreational sports teams have to fold once participants reach 15+, which is a tragedy. It is common for Under 18 and even Under 16 girls' sides to be scrambling around for players and this is something which is not seen to the same degree with boys' teams. Some teams that do continue are mixed teams, such as in Cricket. In reality, these teams are often male-dominated and as one A Level pupil told me, "why would you want to be the only girl in a team full of boys?". It is important that clubs and National Governing Bodies work to increase diversity and help clubs encourage more and more girls to join and stay in sport.
A fear of being judged by others can be a significant barrier stopping some girls from pursuing their love, passion and/or careers in sport. Body image and lack of confidence also contribute. Increased anxiety following the pandemic will only exacerbate this effect. Body image and puberty are two big barriers, and these require more creative solutions. Research by Women In Sport found complex barriers and deep-rooted negative attitudes are affecting girls' enjoyment of sport. Body image and puberty are also significant factors. In their study, 78 per cent said they avoided sport when they had their period while 73 per cent didn't like others watching them take part in activities. This is a big challenge which should not be ignored or dismissed and there are ways we can start to address these attitudes. In our PE curriculum we teach Health Related Fitness and during this module, we work hard to confront various myths associated with physical activity – for example, "are carbs bad" and "if I lift weights will I become bulky and manly?" (the answer is a very strong no on both fronts!). This is coupled with an excellent PSHE programme created by our Heads of Section and delivered by our brilliant pastoral teams. Common themes include discussing body image and encouraging pupils to use sport and physical activity as a way to manage stress and to maintain wellbeing. It is so important we build young girls' confidence and self-esteem, allowing them to grow to love sport and physical activity and to have a healthy relationship with exercise and their bodies which will stand them in good stead for the rest of their lives.
Another reason for the drop off, and one I think is sadly too prevalent, is the roles that we as a society force or encourage girls and women to adopt. Though this is slowly changing – for example through brilliant campaigns like "This Girl Can" – many young women are still discouraged from participation in sports through subconscious pressures and constructs. Perhaps, still, in 2023, it is 'not feminine' to play sport and women 'should be focused on other things'. I love at Headington that our pupils are encouraged to adopt a variety of roles – not just in Sport, but in Drama, CCF, Music, student leader roles, the list goes on and on. They do not have to compete with boys for these roles, particularly the ones which are traditionally male-dominated, which means our girls can thrive in whatever role they wish to pursue without that comparison. 
Outside school, however, it can be difficult to escape. Often we see male sport dominating the main act. For example, men's fixtures getting the primetime slots such as on Saturday evenings or Sunday afternoons. At Headington it's brilliant that we can give our girls the main stage: they are never the warm up act, always the main event. I spoke with my A Level PE class and they said that a number of sports teams they had been involved with had folded. They told me there was a significant lack of opportunity for matches and, in some instances when matches were available, there was too much pressure to be serious – they want to play sport because they enjoy it. Many said how fortunate they were to have such outstanding sporting provisions at Headington. Clearly, there is a need for recreational level sport for girls outside and in addition to what schools are able to offer.
I certainly do not have all the answers and am not an expert – and clearly do not have the personal experience of having been a 15-year-old girl – but I have some reflections from my time teaching at Headington. There is much said about single-sex schools and whether they are the way forward. I believe one of the best things an all girls school offers is the platform to succeed and occupy roles that may have previously and wrongly been perceived to be 'boys' activities'. Our girls are encouraged to take on a huge variety of roles and in PE and Sport they are able to succeed in many different sports. One prime example is as Football players. Football, traditionally and wrongly, has been viewed as a boys' sport.The recent success of the English Women's team, the Lionesses, has shone a light on a surprising piece of history – women's Football was once more successful and more popular than the men's game until it was banned in 1921 by the Football Association, who said it was 'quite unsuitable for females'. We've got a long way to go to negate the impact of a near 50-year ban. We are starting to make headway. At Headington, having no boys for comparison enables our footballers to succeed without the negative tropes of it being a 'boys' sport' and away from environments where boys' matches take priority. Sadly this is a common reality for girls' Football, where boys' Football teams will often occupy better pitches and better time slots. One possible solution then is giving girls the space to succeed and, as importantly, to try and to fail, without the comparison of boys. Further examples of this are female-only gyms, exercise classes, run clubs, and specific places and times in sports clubs to enable them to get their physical activity and/or sport fix. 
It's not always possible to do this however, so more solutions are needed. As a society, and perhaps particularly as men, we must ensure we view girls' and women's sport and exercise in the same way that we view boys' and encourage girls into sport and competitive activities in the same way we already do successfully for boys. It is integral to character and social development and physical activity is a necessity in staying mentally and physically fit and healthy. Anecdotally, it staggers me how many male coaches there are compared to female coaches in independent school Hockey. I know that many of these male coaches made their way into coaching after or alongside a good playing career. If women don't have the opportunity to have the same sporting careers then it's no wonder we see a considerably lower number of female coaches. This in turn has a negative effect. "You can only be what you can see" is a common saying which tells us we need diverse role models to enable the next generation to dream and chase varied careers and pastimes. We are fortunate at Headington to have brilliant teachers and role models, women who have been there and done it, for example Mrs Vickers and Mrs Cathcart having played high level Netball, or Miss Horlock having played state level Hockey in South Africa, or Miss Brown in her career as a youth track athlete.
We are fortunate at Headington. We have the staff, the facilities and the structure to allow us to deliver outstanding PE curriculums and physical activity provision. I feel passionately that more must be done in local communities and as a society to level the playing field and to enable girls and women to enjoy the same benefits of physical activity and sport that boys and men have been enjoying for generations.
Reading list