Bringing my love of gardening into school life
As a teenager, I actively resisted anything to do with gardening. My mum, now retired, worked for the Royal Horticultural Society and lectured in horticulture – therefore our garden and house was filled with strange and exotic species of plants throughout my childhood. This wasn't a problem, but constantly stopping at garden centres or specialist nurseries whenever we travelled anywhere, was. I just didn't feel excited about plants at all.
It was around the age of 30 when I was living in Bristol that I finally had a small garden space of my own. During the first spring there, I noticed a huge crop of sweet peas appearing in one of the beds. I bought a few ceramic pots and decided to test out my seed-growing skills and miraculously, everything bloomed. 
That was the start of my gardening obsession and I enjoyed it enough that I went on to do an evening course in garden design. Since moving with my own family to Oxfordshire and finally settling in a house with a larger garden, my confidence has grown in trying new things out. The enforced period of lockdown meant that I could finally experiment with new ideas. This involved: making raised beds for vegetables out of recycled scaffolding planks, re-shaping the lawn to create larger beds for planting, in-laying rounded archways at either end of the garden for climbing plants, planting fruit trees and propagating anything I could get my hands on.
It has been a real pleasure to bring some of this experience and share it with students at Headington over the last year. I was asked to run a horticulture elective course for L6, which involved teaching the girls about how to care for both indoor and outdoor plants, soil types and what plants need to thrive, seed-sowing throughout the year, how to propagate and how and when to prune. It also meant they had the opportunity to be involved in planting the first Headington dye garden. In addition to the Elective, it has been huge fun to pair up with Kate Turnbull, Head of Fashion Textiles at Headington, on Monday lunchtimes, to help produce plants for dyeing fabric. Students in our lunchtime gardening club were instrumental in sowing the first batches of flowers to be planted out in the new dye garden. Their excited cries of "Oh look! Our seeds have grown another inch this week!" were infectious and seeing them growing in confidence as they dug in plants they had grown from seed has been a real delight.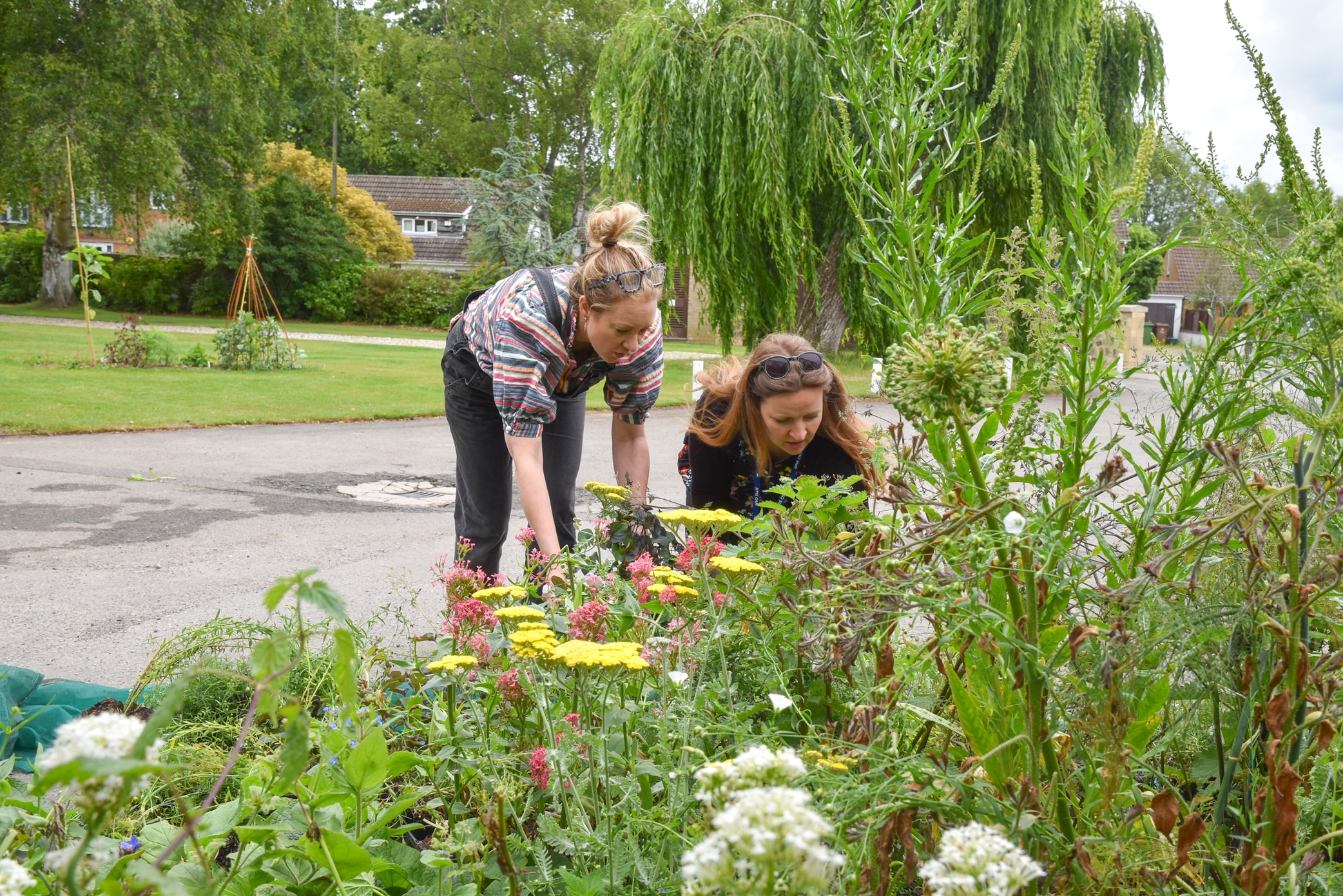 A clear benefit of working in a garden with others is the positive impact on everyone's physical and mental wellbeing. Personally, I often find it difficult to find time to go outdoors during a normal working day, but just an hour outside in the fresh air has been a real boost to my health and positivity. All the students I've worked with over the year have commented on this, and the feeling of camaraderie as we industriously get on with planting or pruning has been fantastic. The RHS and many other charities champion gardening as 'free therapy' – I believe it is.
Our own on-site school gardening team have been very supportive throughout the last year, helping with watering during the school holidays and lending students tools to work with during term time. We enjoyed visiting Jason, one of our gardeners, for a tour of the School's greenhouse back in late Spring, to see how he organises and grows plants for the School's grounds and feel very grateful to him and Darren, our Head of Gardens and Grounds, and the whole team of gardeners for creating new beds for us to work with. It has been great for students to connect more with what happens on the school site throughout the year and for them to see the hard work that goes into maintaining lawns, planting, tree maintenance, composting, to name just a few of the many jobs involved.
I do hope many of our students will have the opportunity to get involved in gardening, whether through collecting house plants, growing their own vegetables, or learning to look after a garden space. The pleasure in seeing something grow from a seed into a plant, vegetable or even tree never wears off – this is something we should all be thinking about as we face the impact of the cost of living and as we look to create green spaces for the future of the environment.