Remembrance 2022
On Friday 11th November, the whole school gathered to mark Armistice and to remember and give thanks for the lives of those lost in conflict and war.
The short service was led by prefects and members of the School's Combined Cadet Force contingent with Major Anisha Charania leading in the act of remembrance.
Orla from U6 played the last post beautifully and the two-minute silence was held impeccably. The worship was led by the Chamber Choir who sang 'Abide With Me' as well as 'I Vow to Thee', which the whole school sang alongside the Chamber Choir.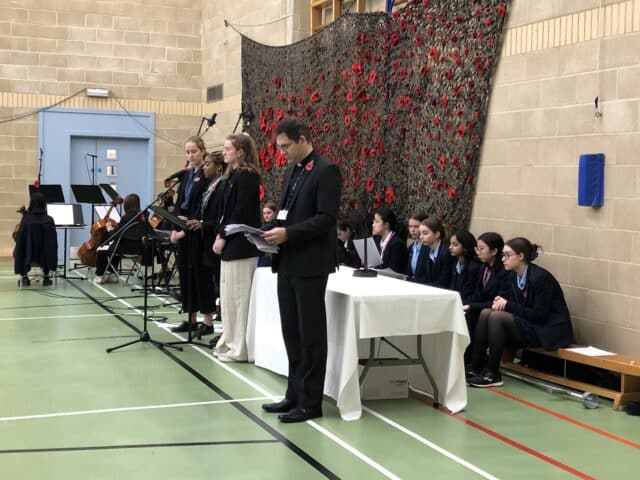 Rev Howell spoke on love and sacrifice, reminding the School of the story of Maximilian Kolbe, a Polish Priest who died in the place of another prisoner at Auschwitz, Franciszek Gajowniczek, and how Kolbe's act of sacrificial love was an echo of God's love shown to us through Christ.  This was the first of two remembrance events that the School was involved in over the weekend.
On Remembrance Sunday, 40 members of CCF, as well as their families and friends within the boarding community, attended the Oxford City Centre Civic Service of Remembrance at St Giles War Memorial.
The contingent were on parade alongside other members of the cadets, UOTC, Reserves representing RAF, Navy, Sea Cadets, Rifles, the Royal British Legion and other ex-service personnel, members of the Scout movement and the Salvation Army. The Service was well attended with a multitude of faiths and communities remembering the Fallen. SSgt Alina had the honour of laying the wreath on behalf of Headington School.
For the March off, the group followed behind the Salvation Army Band, Corunna Band and Bugles giving the salute to the Vice Lord Lieutenant and the Civic Party. The Headington contingent were excellent with Sgt Ge as our flag bearer and Lt Travis in command working together to keep time.
Major Charania said: "I was proud of our contingent this weekend, showing great respect to the Civic Service. Everyone was well presented, representing Headington School CCF Army Section with pride."