Grow the Game in Ghana – Mr Williams and Y1 in Africa
In my other life as a Hockey player, I am sponsored by Y1 Hockey. They are a clothes and kit manufacturer and their ethos and tagline is 'Reinvent the Game'. This has included a variety of things including exciting marketing, backing EDI movements, becoming carbon neutral, and most recently a commitment to 'Grow the Game'. I've been with them a number of years and align heavily to their core values, and believe they are a company with a strong moral compass.
Recently, I was privileged enough to join Y1's latest venture where we went to Ghana to get more people into Hockey. Our trip involved travelling to Accra and Akim Oda, in Ghana, so that we could run some coaching clinics, hand out some Hockey sticks and help 'grow the game' in Africa. We did a number of Q&A sessions, photo opportunities and handed out shirts – all in a bid to try and inspire the people we met and to get them to play Hockey. We were hosted incredibly well and I was blown away by the talent. Many of the kids we coached would walk into our A teams here at school and could comfortably play at county level.
This relationship began from a chance meeting between Y1 and some Ghanaian Hockey players at last summer's Commonwealth Games and is the beginning of a longer-term project and relationship which aims to support our Ghanaian colleagues in growing Hockey – and providing locals with the huge plethora of benefits that we know comes with the sport.
With any sort of support like this, it is important that we help our partner organisations become independent at delivering inspiring and exciting Hockey programmes and a first step toward this is helping them kit up. We are all relatively privileged, though we can forget the idea that Hockey is an expensive sport – you need a stick, shoes, shin pads and a mouthguard to play.
The next step in this project is therefore to organise a kit drive. This is where you come in! I am looking for sport kit and Hockey kit that we can share with partner organisations in Ghana, to help enable them to access sport and Hockey. They have such a huge passion and interest, and more equipment will help fuel their drive. It is important to recognise that these organisations do not need our rubbish, but, rather, would benefit from clothing and equipment they may not be able to access as listed below:
Hockey sticks – if you have any pre-loved Hockey sticks that are in good condition, we want them! Ensure they are not splintering but all sizes and brands are welcome.
Hockey gloves
Hockey shin pads
Shorts, skorts and playing tops – any sports kit that you have and do not wear anymore, but is still in good condition, can be brought in
Hockey (or football) socks – so long as they are in good condition
Unopened mouthguards
If you're not sure on anything, just ask me
Kit needs to be washed before it is handed in, so please ensure you do this. I would be grateful if you can wash shin pads and gloves as well as possible – a hand wash will probably do – shinpads and gloves might not survive the washing machine but you can usually take the inner lining off and put these through the wash. If you are putting these things in the washing machine, do a short wash.
Drop off for clothes and equipment will be at the below times and location, and nowhere else:
Monday 26th June 0815-0825 am in PE lost property
Wednesday 28th June 0810-0825 am in PE lost property
Thursday 29th June 0815-0825 am in PE lost property
Wednesday 5th July 0810-0825 am in PE lost property
It's important to know that there are no Hockey equipment manufacturers in Ghana, hence the kit drive. We should also consider that this is a targeted kit drive, not just a 'get rid of old clothes' opportunity. Headington is a registered charity and has a strong history of supporting our local and wider community. This is why I think it is a brilliant opportunity to allow others to gain access to some of the privileges we enjoy.
During our Y1 trip to Ghana, the cameraman, Ryan, created a vlog of sorts which can be seen on the Y1 Hockey instagram – my first foray into presenting! If anyone wants to chat more, or to see more photos etc, I would love to speak with you about it. This is something I feel hugely passionate about.
A huge thanks in advance, I believe wholeheartedly that this is an exciting and positive project that we as a community can have a tangible effect on.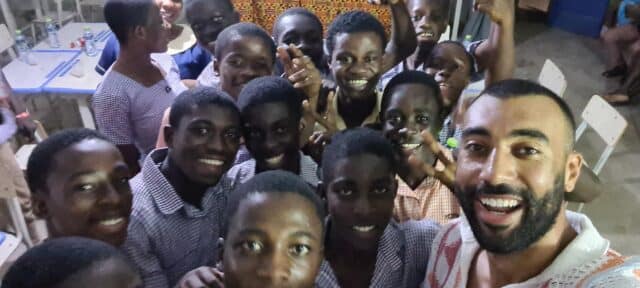 Written by Mr Williams, Head Hockey Coach at Headington School.